Beautiful in my eyes!
I don't know the name of this flower. I just named it as a bell flower or cup flower because of the shape. But, look at them, they are so lovely, aren't they? This was taken last year on springtime in Sweden. I took this one at Plantagen, Vasteras City, Sweden. Anyway, this is my entry for today.
Can you name this flower?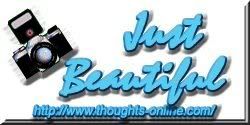 Click the badge above for more Just Beautiful entries around the globe.